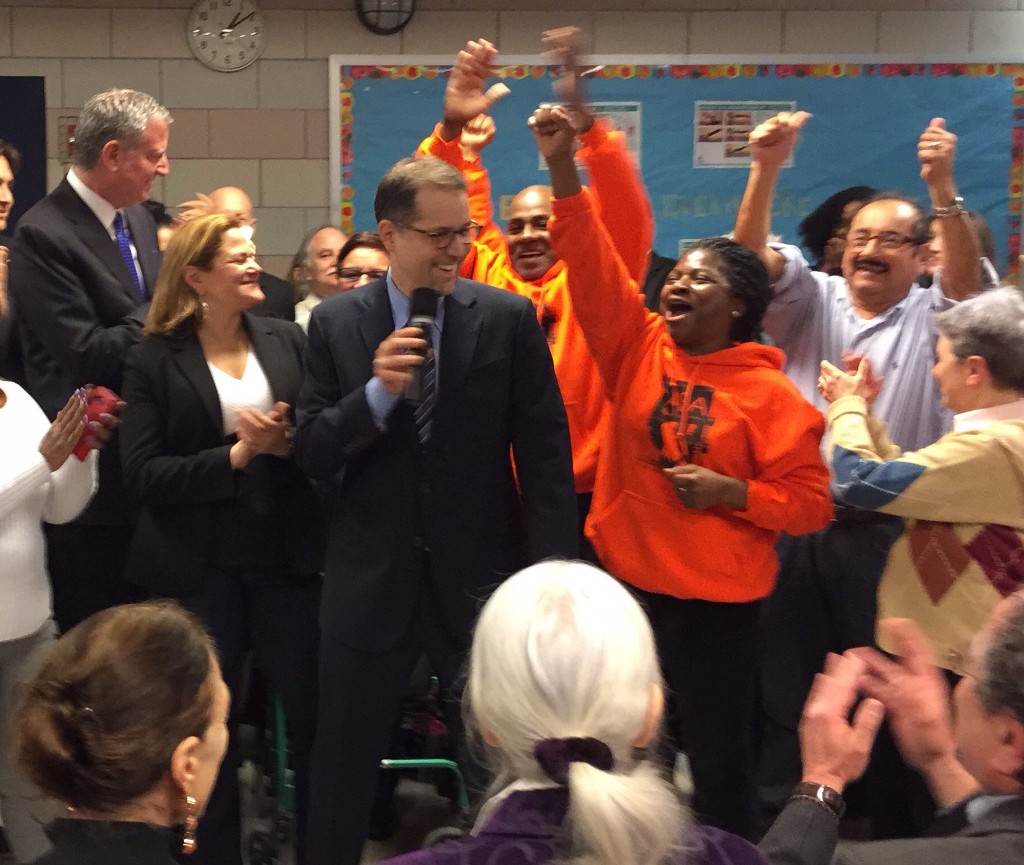 New York City's "Universal Access" Legislation:
One Giant Leap For The Civil Right To Counsel
On July 20, 2017, 48 years to the day after Neil Armstrong and Buzz Aldrin took the first human steps on the moon, the New York City Council passed Intro 214-B. The bill, signed into law by NYC Mayor Bill de Blasio on August 11, 2017, makes New York City the first jurisdiction in the United States to commit to providing legal representation to all low-income tenants, who face eviction, whose income falls below 200% of the federal poverty guidelines. By guaranteeing legal representation in eviction proceedings for people who cannot afford counsel, the law breaks new ground and marks a major step forward for the civil right to counsel movement. When fully implemented in 2022, the City of New York projects that it will be spending $155 million a year in provision of counsel for tenants facing eviction in New York City.

Recognizing the realistic need to expand capacity over time in order to assure quality assistance, as well as the need to manage expectations of a population with immediate needs that simply can't all be addressed immediately, the NYC Council wisely wrote a five-year phase-in period into the legislation. The city plans to start implementation by ensuring full representation in one zip code per borough and then to expand from there. The city also has agreed to expand services to all income-eligible elderly and disabled tenants within the next couple of years.

Under the legislation, legal assistance will be provided by non-profit legal services organizations, who will be expected to hire hundreds of new staff attorneys, as well as supervisors and other personnel to implement the statute. There are over 250,000 eviction proceedings on the docket of New York City's Housing Court each year and it is estimated that 82% of the tenants facing eviction are income-eligible for assistance.

New York City's civil legal services programs have their work cut out for them. Hiring scores of new attorneys, promoting supervisors, finding office space and developing a service delivery infrastructure may be enviable challenges, but they are significant challenges for the providers nonetheless. Over the coming years, there will continue to be a need for a steady stream of hiring and expansion, training of new hires, promotion of experienced attorneys to supervisory positions and training them to be good supervisors. To fill the jobs in this rapidly-growing field, there will need to be a pipeline of law students, law graduates and attorneys who will be well-equipped to take the jobs. Our victory in securing representation for all low-income tenants will have enormous, transformative impact if we can develop a cohort of attorneys to implement the law who have the skills and the fire in the belly to work with and for community organizations that are fighting to save their homes and communities, to advocate aggressively in the courts, legislative bodies and elsewhere for laws, policies and practices that protect and advance the interests of low-income tenants, and who know how to use all the tools at their disposal.
This breakthrough in NYC is inspiring other jurisdictions to take similar measures. Philadelphia appropriated $500,000 this year for attorneys to provide eviction defense; Washington D.C. appropriated $4.5 million for eviction defense; legislation to create an eviction defense program has been introduced in Baltimore. Just as the moonwalk almost a half-century ago demonstrated what science could accomplish, New York City's new program of universal access to counsel is a breakthrough of monumental proportions that demonstrates how activism and advocacy by a broad coalition, led by community leaders and widely supported, can substantially advance social justice. Stay tuned.